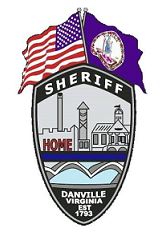 (Danville, VA) – The Danville Police Department is investigating a death that occurred at the Danville City Jail on Tuesday afternoon.  At approximately 2:44pm, Anthony Lee Wyatt, 37, of Danville was brought into the facility after a public intoxication arrest.  Wyatt was being held in one of the jails holding cells.
According to a press release from the Danville Sherriff Mike Mondul at roughly 5:26pm a control room supervisor noticed Wyatt laying on the floor and did not appear to be moving.  Deputies were requested to check on Wyatt, and upon entry to the holding cell deputies determined Wyatt did not have a pulse.  CPR was administered by deputies and the jail's Emergency Rescue staff were alerted and life saving measures continued until members of the Danville Life Saving Crew arrived.
Personnel and crew members were able to get a pulse and Wyatt was transported to the hospital where he eventually was pronounced Dead.  The Danville Police Departments involvement with the investigation is standard procedure for the jail.