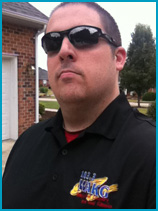 I'll have all your favorite country weeknights from 7-10 pm…and don't worry I will still be around to make sure the weekends rock out as only I can!
If you are looking for me normally you can find me on twitter (link below) following your favorite country artists and of course sports teams and talk show hosts.
I'm an avid sports fan mostly consumed in the NFL. I'm a die hard Baltimore Ravens fan but thanks to Fantasy Football I have even more reason to be a fan! I'm also a big UNC fan! And it's not just basketball as most fans are; bring on the pigskin and baseball too! Any excuse to put on the blue and white (proper shades of course).
Now don't forget about gaming.  As a child of the 80's I love my video games! Whether it be console or PC or even board games I'm all in!
I'll make sure the party is hopping anytime I'm on so you gotta keep us tuned in! LET'S ROLL!!
Oh, and let's not forget my wonderful wife, Sara!
Ginyah and I have also started a podcast talking about all the random things that happen in our lives check it out HERE!