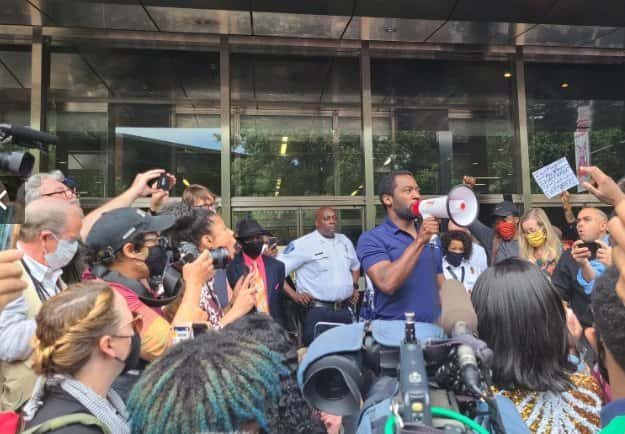 RICHMOND, Va. (AP) – Richmond Mayor Levar Stoney joined racial justice demonstrators Tuesday, hours after an angry crowd shouted him down as he apologized for police lobbing tear gas at a group of peaceful demonstrators.
Video coverage showed Stoney wearing a dark blue mask with red and white figures on it as he spoke to a television news reporter. Before the march, several hundred people gathered outside City Hall, chanted "Fire them!" and repeatedly drowned out Stoney as he apologized and promised that the officers involved will face disciplinary action.
Video posted to social media showed a line of police launching tear gas toward a group of protesters on Monday who appeared to be peacefully gathered near a Confederate statue.
Meanwhile, a county in northern Virginia pulled its officers out of the District of Columbia after they helped clear peaceful protesters from a park so that President Donald Trump could have a photo opportunity outside the White House.
The Arlington County Board says its officers were used "for a purpose not worthy of our mutual aid obligations." District of Columbia Mayor Muriel Bowser questioned why Arlington officers were there in the first place. County Board chair Libby Garvey said U.S. Park Police requested Arlington's assistance.
The officers joined federal law enforcers who used chemical agents and flash bangs to clear peaceful protesters from Lafayette Park so that Trump could pose with a Bible outside St. John's Church.