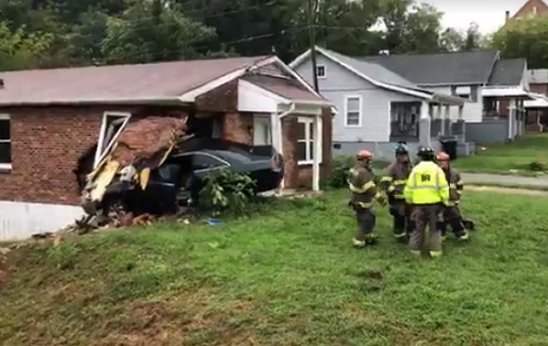 DANVILLE, Va. – A Danville resident faces multiple charges after losing control of a car and slamming into a south Danville home Thursday morning.
The driver, Demetrie Crawley, 30, of Danville, was cited for failure to maintain control, failure to stop at stop sign and driving without a license.
The small brick rancher at 433 Gay St. was vacant at the time and had just undergone extensive renovations after being struck by another car back in February.
Danville Police, fire and rescue units were sent to the corner of Gay and Poplar Streets around 9 a.m. and found a dark sedan lodged in the living room of the single-story house. The driver was not injured seriously but was transported to the hospital to be checked out.
Danville firefighters shored up the walls and porch to prevent the building from collapsing once the car was removed.
The house was subsequently condemned by city inspections officials.
(Photo courtesy River City TV)