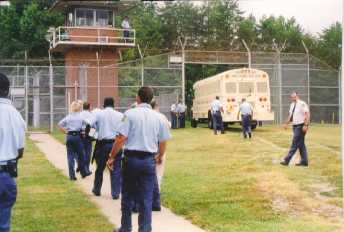 YANCEYVILLE, N.C. – Mass COVID-19 testing at a second North Carolina state prison has turned up more than 30 additional positive cases at the Blanch, North Carolina facility.
The Department of Public Safety said on Monday the prisoners were among more than 400 offenders at Caswell Correctional Center who were tested last Friday. The Caswell prisoners testing positive are all asymptomatic. The rest tested negative.
The decision to test the entire offender population at the prison was made in collaboration with the North Carolina Department of Health and Human Services and was based on data that revealed a gradual increase in the number of offenders who tested positive for COVID-19 through symptom-based testing, as well as a gradual increase in the number of staff who either self-reported testing positive for the virus or who tested positive in a Caswell County Health Department-offered voluntary testing initiative that began on May 8.
Free testing for all Adult Correction and Juvenile Justice employees, which includes the Division of Prisons, is offered on a voluntary basis until July 31.
Mass testing within Neuse Correctional Institution in Goldsboro in April uncovered well over 400 cases.
North Carolina health officials reported on Monday more than 29,200 positive cases statewide since the pandemic began, with almost 900 deaths. More than 420,000 tests have been completed.