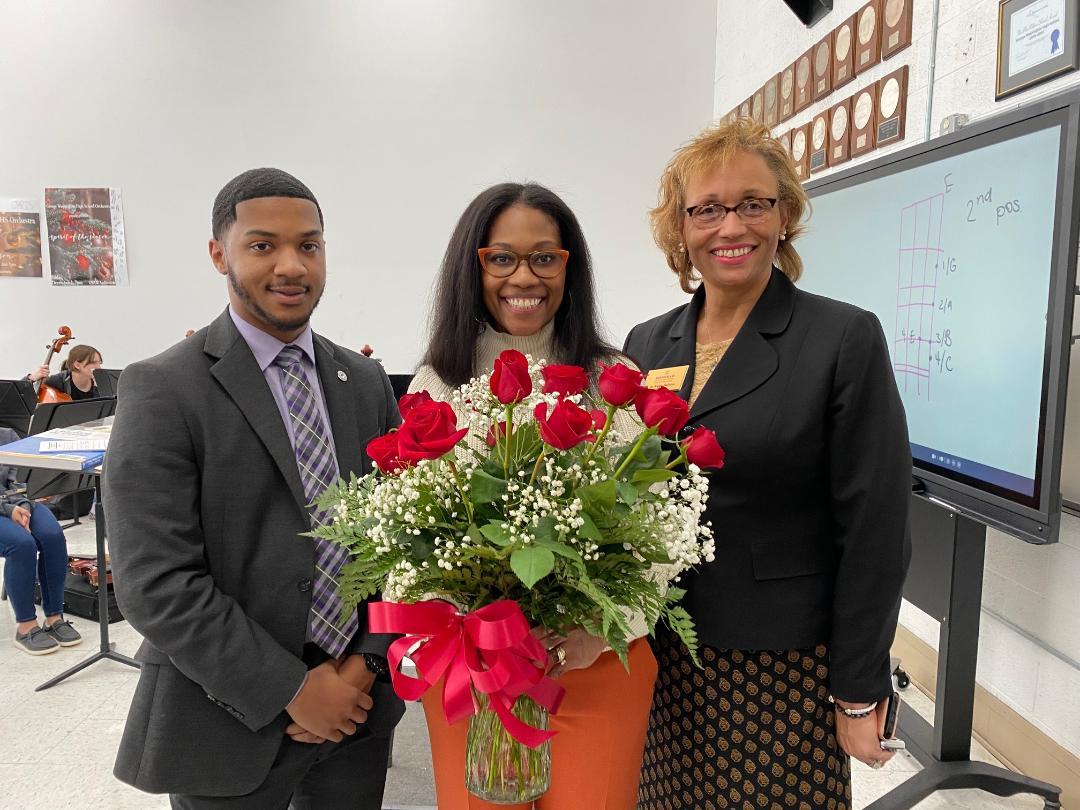 On Monday, school and district leaders announced George Washington High School Orchestra Conductor Mrs. Frenita Griffin as the Danville Public Schools (DPS) Teacher of the Year.
Griffin, a native of Danville and a product of DPS, holds a Bachelor's Degree from James Madison University and a Master's Degree from the University of North Carolina at Greensboro. She holds teaching endorsements in Vocal/Choral PreK-12 and Instrumental PreK-12.
Griffin began her teaching career at Danville Public Schools in general music at the elementary level 17 years ago. In 2010, she became the middle school orchestra teacher for Bonner and Westwood. She has been conducting the George Washington High School Symphony Orchestra since 2014.
Under her leadership, both the high school and middle school orchestra programs have maintained their tradition of excellence by achieving superior ratings at district assessments.
"In the short time I have known her, Mrs. Griffin has proven herself to be an exceptional educator who puts the needs of students first," George Washington High School Principal Reyhan Deskins said. "She is a valued member of our GW staff who spreads awareness about issues affecting the whole community."
Griffin is a part of the Virginia Band and Orchestra Association, as well as the Virginia Music Educators Association. She is the National Honor Society sponsor for George Washington High School, in which she and her students volunteer at the Salvation Army store and collect and donate items for local nursing homes and shelters. She continues to play music in churches, including at Melville Avenue Baptist Church and the praise team at Vance Street Baptist Church. Griffin has also participated in the Danville Symphony Orchestra and the Order of the Eastern Star, PHA. She is a part of Alpha Kappa Alpha Sorority, Inc.
In addition to teaching music and performing, Griffin makes it her mission to involve her students in community service activities and encourages them to be selfless through acts of kindness.
"I find it truly an honor and a privilege to be chosen to represent not only my beloved alma mater, George Washington, but this district and my hometown," Griffin said. "Music is a gift, and I am blessed to be able to teach and share this gift with my students, the schools, and the community."
Griffin will serve as the district's nomination for the 2024 Virginia Department of Education – Mary V. Bicouvaris Virginia Teacher of the Year.
"Mrs. Griffin is a phenomenal educator who believes in her students," DPS Superintendent Dr. Angela Hairston said. "Her dedication is unyielding and unwavering. She treats every student as though they are her own. I am proud of Mrs. Griffin and her accomplishments."