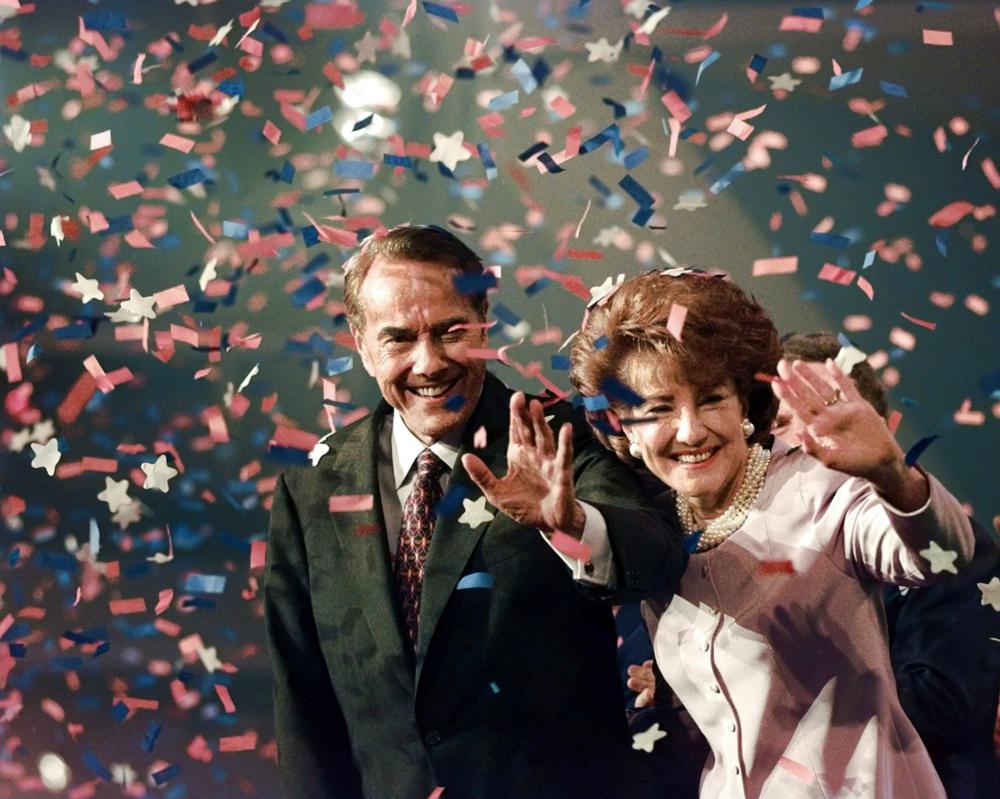 WASHINGTON (AP) — Bob Dole willed himself to walk again after paralyzing war wounds, ran for Congress with a right arm too damaged to shake hands, and rose through the Senate ranks to become a long-serving Republican leader and tough and tireless champion of his party.
He embodied flinty determination to succeed.
Yet Dole, who died Sunday at age 98, was most famous for the times he came up short.
He was the vice presidential running mate in President Gerald Ford's post-Watergate loss and he sought the presidency himself three times. He came closest in his final race, securing the 1996 Republican nomination only to be steamrolled by President Bill Clinton's reelection machine.
Dole later said he had come to appreciate the defeats as well as the victories: "They are parts of the same picture — the picture of a full life."
Representing Kansas in Congress for nearly 36 years, Dole was known on Capitol Hill as a shrewd and pragmatic legislator, trusted to broker compromises across party lines. He wielded tremendous influence on tax policy, farm and nutrition programs, and rights for the disabled.
Those qualities rarely came across on the national political stage, however.
Early on, Democrats dubbed him the GOP's "hatchet man," and Dole seemed born to play the part. His voice was gravelly, his face stony, his delivery prairie-flat, even when delivering a quip. He could seem hard-bitten, or bitter, or just plain mean when he lashed out at political opponents.
With each presidential quest Dole tried anew to soften his public persona. He could never pull it off — at least, not until he was out of politics for good.
Just three days after his final race ended in a resounding loss, Dole was cutting up with comedian David Letterman on late-night TV.
Letterman greeted him with a cheeky, "Bob, what have you been doing lately?"
"Apparently not enough," Dole answered with a grin.
The newly chipper Dole parodied himself on "Saturday Night Live," wrote two collections of political humor and made a surprising commercial for the anti-impotence drug Viagra, at a time when sexual troubles weren't so openly discussed.
Dole later said people were always coming up to tell him they would have voted for him in 1996, if only he had been so free and funny in his presidential campaign. But he felt voters preferred gravitas and restraint in their politicians.
"You've got to be very careful with humor," he said. "It's got to be self-deprecating or it can be terminal, fatal, if you're out there just slashing away at someone else, and I've sort of learned that over the years."
In September 2017, Congress voted to award Dole its highest expression of appreciation for distinguished contributions to the nation, a Congressional Gold Medal. In 2019, it promoted him from Army captain to colonel.
His announcement in February 2021 that he'd been diagnosed with stage 4 lung cancer prompted an outpouring of sympathy, prayers and well-wishes from across the political spectrum. President Joe Biden visited Dole's home at the storied Watergate complex soon after Dole's dire diagnosis; the White House said they were close friends.
Photo Credit Associated Press