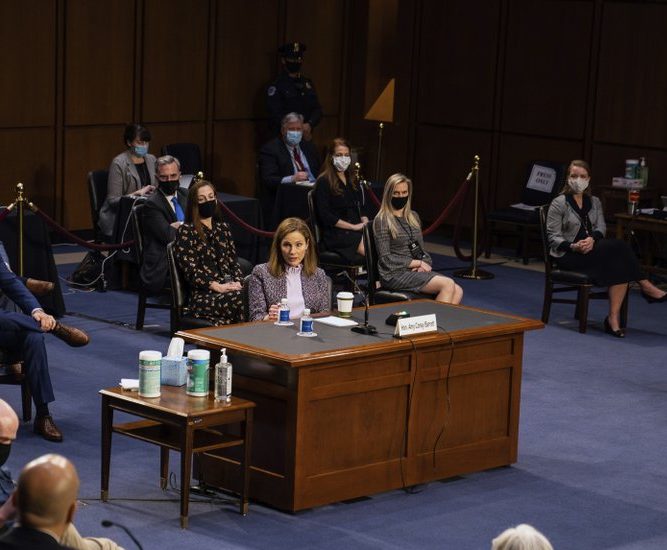 WASHINGTON (AP) — The Senate Judiciary Committee is poised to take the first steps toward approving Supreme Court nominee Amy Coney Barrett following two long days of Senate testimony in which she stressed that she would be her own judge and sought to create distance between herself and past positions.
Barrett's confirmation to take the seat of the late Justice Ruth Bader Ginsburg seems inevitable, as even some Senate Democrats acknowledged in Senate hearings on Tuesday and Wednesday. The shift would cement a 6-3 conservative majority on the court and would be the most pronounced ideological change in 30 years, from the liberal icon to the conservative appeals court judge.
After the two days of questioning, the Judiciary panel is scheduled to start considering the nomination Thursday morning. The meeting, which is a procedural formality, will be held ahead of a panel of law experts and advocates who will testify for and against Barrett's nomination. Senators are expected to discuss the nomination but then push the committee vote on Barrett until next week, per committee rules. Barrett will not be present.
Facing almost 20 hours of questions from senators, the 48-year-old judge was careful not to take on the president who nominated her and sought to separate herself from writings on controversial subjects when she was an academic. She skipped past Democrats' pressing questions about ensuring the date of next month's election or preventing voter intimidation, both set in federal law, and the peaceful transfer of presidential power.
She also refused to express her view on whether the president can pardon himself. "It's not one that I can offer a view," she said in response to a question Wednesday from Democratic Sen. Patrick Leahy of Vermont.
Democrats raised those questions because President Donald Trump has done so himself.
When it came to major issues that are likely to come before the court, including abortion and health care, Barrett repeatedly promised to keep an open mind and said neither Trump nor anyone else in the White House had tried to influence her views.
"No one has elicited from me any commitment in a case," she said.