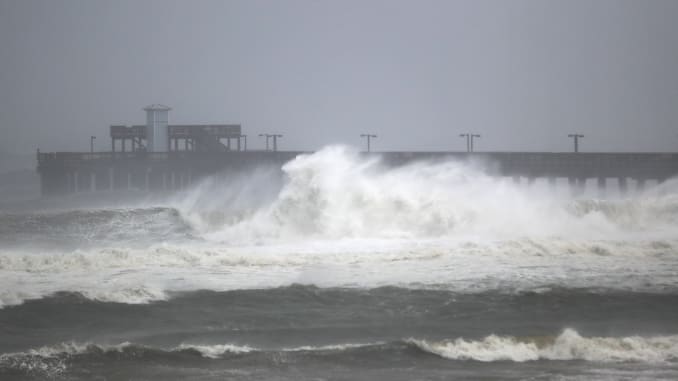 Hurricane Sally is expected to slam into the northern Gulf Coast this morning. Landfall could be between Alabama's Mobile Bay and the Florida Panhandle. Sally's blowing 105 mph winds, making it a Category 2 storm.
Alabama Gov. Gov. Kay Ivey says her state is looking at record flooding "perhaps at historic levels." And she urged residents to evacuate ahead of the approaching storm.
Rain is falling sideways, winds are pummeling the storm zone, and the power is out for more than 150,000 homes and businesses.
Flash floods from as much as a foot of rain have been reported. And, because the storm is moving so slowly, the deluge is expected to be drawn out – with some spots possibly getting 30 inches of rain.
The National Weather Service says Sally will bring heavy rainfall to the Danville area tomorrow, with a flood watch in effect beginning Thursday morning and extending through Friday afternoon.
Hurricane Sally is making landfall near the border between Alabama and Florida.
Sally's slow movement is bringing prolonged impacts to the Gulf Coast.
Life-threatening storm surge is expected, particularly in parts of Alabama and the western Florida Panhandle.
Flooding rain is a major threat from Sally on the Gulf Coast and farther inland across the Southeast through Thursday.
Rainfall totals of up to 30 inches could result in historic flooding near and just inland from the northern Gulf Coast.
Damaging winds are expected near where Sally's center crosses the coast.