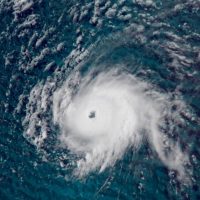 (Cape Hatteras, N.C.) — An ominous 2 p.m. update from the National Hurricane Center reported that Florence was driving maximum sustained winds of almost 130 mph, a Category 4 storm out of a possible Category 5 on the Saffir-Simpson hurricane wind scale. The update warned that the storm would strengthen and be an "extremely dangerous, major hurricane" through Thursday.
"This storm is not going to be a glancing blow," FEMA Associate Administrator for Response and Recovery Jeff Byard said Tuesday. "This storm is going to be a direct hit."
The outer bands of rain could reach Virginia and the Carolinas as early as Wednesday.
More than one million people have been ordered to evacuation in anticipation of the storm.
"This storm is a monster. It's big and it's vicious," North Carolina Gov. Roy Cooper said Tuesday. "The time to hope Hurricane Florence away is gone."