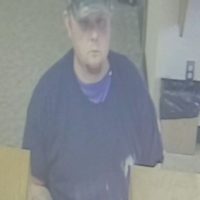 (Rockingham County, N.C.) — A Stoneville bank was robbed shortly before closing Tuesday.
The Rockingham County Sheriff's Office says the robber entered Fidelity Bank on South Henry Street just after 4:30 and passed a note to the teller demanding cash.
After getting an undisclosed amount of money, he ran out of the bank and got into a silver car driven by a white female.
The robber is also white. He is in his twenties and was wearing a "Mossy Oak" logo camouflage hat. He has a goatee and was wearing a blue t-shirt, khaki pants and black shoes. He is heavy set and has tattoos on both arms to his wrists.
Anyone who recognizes this individual is asked to call the Rockingham County Sheriff's Office at 336-634-3232.