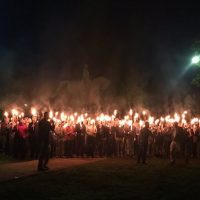 (Shelbyville, Tenn.) (AP) — Law enforcement agencies around the country are honing their responses to an increasing number of rallies held by far-right groups as they struggle to balance free-speech rights with public safety. Authorities also are comparing notes and taking the lead from their counterparts when they see positive results.
University of Florida Police Chief Linda Stump-Kurnick says she learned from police in Berkeley, California, that it's important to "act quickly" when violence erupts.
At the heart of the changes is a determination to prevent a repeat of the bloodshed resulting from a white nationalist rally in Charlottesville, Virginia, in August, when a woman was killed by a car that plowed into a group of counter protesters.
A visibly restrained police response led to reports that officials had given explicit "stand-down" orders not to intervene, something authorities denied.