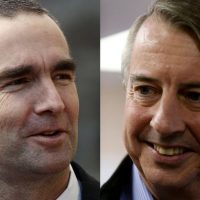 (Richmond, Va.) — As Virginia voters prepare to choose their next governor tomorrow, two polls are showing different results. Democratic Lt. Gov. Ralph Northam leads former Republican National Committee Chair Ed Gillespie, 51% to 45%, dropping one point to a 6-point lead in the final tracking survey of likely voters by the Wason Center for Public Policy at Christopher Newport University. The poll says Northam has picked up support among independents and moderates.
But a New York Times poll out Sunday shows the race too close to call, with Northam favored 43-to-40% on the eve of the election.
According to a New York Times Upshot/Siena College poll out Sunday, and the Democrat, Ralph Northam, holds a modest three-point lead over the Republican, Ed Gillespie, 43 percent to 40 percent.
That's a statistical dead heat. The poll was conducted Oct. 29 to Thursday, a period when Northam made headlines for saying he would sign a bill to ban so-called sanctuary cities from becoming a possibility in Virginia. Both sides are claiming the advantage on this election eve.