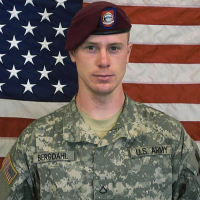 (Fort Bragg, N.C.) — Sgt. Bowe Bergdahl was sentenced Friday to a dishonorable discharge from the Army but will avoid prison time.
Bergdahl, 31, walked away from his outpost in Afghanistan in 2009 and spent the next five years in captivity. He pleaded guilty in October to charges of desertion and misbehavior before the enemy and had faced a maximum life sentence.
The prosecution asked the military judge to sentence him to more than 14 years in prison, while defense attorneys asked that he be spared jail time.
Bergdahl will also lose all benefits, including medical care, afforded to military veterans. He'll also pay a fine of $1,000 a month for the next 10 months.