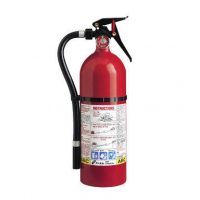 (Mebane, N.C.) — A Mebane-based company is recalling about 40 million fire extinguishers that may not work in emergencies.
Kidde is recalling two kinds of disposable fire extinguishers. The types of extinguishers are the plastic handle fire extinguishers and the plastic push-button fire extinguishers.
There are 134 models covered in the United States and Canada between 1973 through Aug. 15 of this year, according to The Associated Press.
Models that were recalled between March 2009 through February 2015.