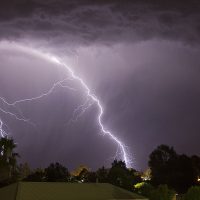 Martinsville, VA – A computer glitch kept Martinsville residents from hearing any warning sirens after a tornado warning was issued Monday for the city.
The nine sirens placed throughout the city are supposed to sound as soon as their computer receives the warning.  But due to what software engineers called a "data exchange issue," the sirens remained silent as Monday night's storm tore down trees and doused the area with rain.
While there were no confirmed reports of a tornado touching down in Martinsville or Henry County, many residents reported downed trees.  Forest Park Country Club reported losing at least 20 to 30 trees to the storm.