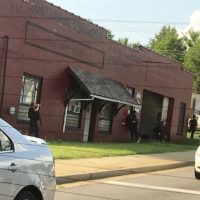 (Danville, Va.) — Danville Police raided a car wash on South Main Street Wednesday afternoon and arrested a man wanted in a weekend shooting.
32-year-old Franklin Deron Myers, Jr. was taken into custody after SWAT teams converged on a car wash at the corner of South Main and Chatelaine Avenue. He is charged with malicious wounding and use of a firearm in the commission of a felony.
Officers in tactical gear and with weapons drawn were seen leading two men away in handcuffs. Several police cruisers and the Crime Scene Unit were also at the scene.
Just a few blocks away, a half-dozen officers were searching the brush next to the Grove Park basketball court and had the area cordoned off with yellow tape.
Myers is charged with Sunday's shooting of a 19-year-old Pittsylvania County man at Pumpkin Creek and Lockett Drive.
Police were called about 6 p.m. Sunday to investigate a report of shots fired and found the teen suffering from gunshot wounds. He was taken to Carilion Roanoke Hospital, where he remains a patient. His condition has been upgraded from critical to stable.
The victim told detectives he was shot during an attempted robbery, but police say the circumstances surrounding the shooting "remain under investigation."
Police are withholding Myers' booking photo while the investigation continues.