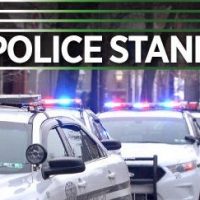 (Danville, Va.) – A Danville man is recovering after he was shot in a confrontation with police Sunday afternoon.
It started just after 5:30 when police were called to the 100 block of Lawson Street, where a woman reported that her husband was armed and threatening to kill himself. Efforts to locate 36-year-old Keith Elson Davis were unsuccessful.
At 9:22 Sunday night, officers were back at the home after receiving a second 911 call from Davis' wife, who reported that her husband was on the porch of the home with a gun and had threatened her.  While officers were en route, Davis forced his way inside and chased the woman and Davis's 12-year-old son, who fled the home.
When officers confronted Davis, he brandished a handgun. The officers backed off and called the SWAT team and negotiators. During this time, Davis made his way onto the roof of the residence, armed with a handgun. Over the course of following three-and-a-half hours, the negotiators attempted to convince him to surrender. Davis threatened suicide, placed the gun in his mouth and made statements that he would force the police to shoot him.
Just before one a.m., Davis unexpectedly jumped from the main roof to a lower level roof on the home.  A Taser was used without success and an armed Davis crawled through a window into the house.  A second Taser was used and when Davis made threatening moves with the gun, a SWAT officer fired his handgun multiple times.
Davis was transported to a local hospital by the Danville Life Saving Crew, and was later transferred to Carilion Hospital in Roanoke, where he is in stable condition.
The investigation into this incident is ongoing.