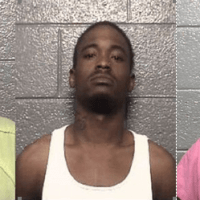 (Danville, Va.) — It didn't take Danville police long to solve a weekend murder. Investigators have charged three people in connection with the homicide of a 17-year-old that took place this past Sunday on Arnett Blvd.
33-year-old Ladreka Shawnta Brandon, 21-year-old Antonio Lamonta Burton, and 20-year-old Justin Montel Jones are charged with conspiracy to commit first-degree murder in the death of Hakeem King. All three are Danville residents. Ladreka Brandon and Antonio Burton have been arrested.  Justin Jones remains at large and should be considered armed and dangerous.
Investigators and additional officers have worked in shifts around the clock since the homicide took place. Police combed through hours of video surveillance and interviewed neighbors, gang members and dozens of individuals. Investigators identified the vehicle used in the shooting through video surveillance. Police located the car, searched it, and identified several occupants.
The shooting shocked the community and happened in broad daylight in front of a home in the 700 block of Arnett Boulevard last Sunday. Police say the trio pulled up alongside the teenager, who was gunned down in the middle of the street and died of multiple gunshot wounds. Between 10 and 15 shots were fired. Investigators say the incident was gang-related.
Meanwhile, police say they are no longer looking for O'Bryan Daquan King for a related shooting that took place on Juless St. about 90 minutes after the homicide.  He has not been located, however, police discovered evidence that contradicted witness information from the day of the shooting. Authorities said earlier that shots were fired into a home on Juless Street in retaliation for the homicide. No one was injured.