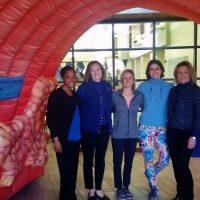 (Danville, Va.) – Those who enter the Danville YMCA Tuesday will be walking through an inflatable colon, as VCU's Massey Cancer Center and the UVA Cancer Center host a colon awareness health fair.
Mindy Conklin is the founder and executive director of "Hitting Cancer Below the Belt," a Richmond-based organization dedicated to combating colorectal cancer. She says diagnosis is rising in the 20-34 year-old population in both men and women. Conklin said many have the misconception that colorectal cancer "is an old man's disease" when half of the disease's victims are women.
Her organization wants to make the public aware that testing options are available beyond a colonoscopy. The idea is to break down the barriers to receiving a colonoscopy and "letting folks know that non-evasive, in-home screening tests are available."
The "Guts & Butts" health fair includes seven vendors, smoothies and door prizes.