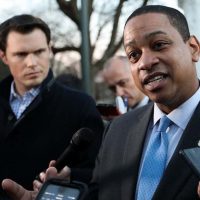 (Richmond, Va.) (AP) — Virginia lawmakers are facing calls to attempt impeachment of the state's second most powerful leader as they struggle to address sexual assault allegations leveled against Lt. Gov. Justin Fairfax.
The push comes as separate revelations of past racist behavior have upended the two other highest positions in state government. Gov. Ralph Northam and Attorney General Mark Herring, both Democrats, have acknowledged they wore blackface in the 1980s. Northam said Sunday that he won't resign.
Democratic Del. Patrick Hope said he wants to introduce articles of impeachment Monday against Fairfax after two women recently accused the Democrat of sexual assault in the 2000s. Fairfax has vehemently denied the claims and called for authorities, including the FBI, to investigate.
On Sunday, Democratic Virginia Reps. Don Beyer and Jennifer Wexton renewed their calls for Gov. Ralph Northam and Lt. Governor Justin Fairfax to step down over their respective controversies.