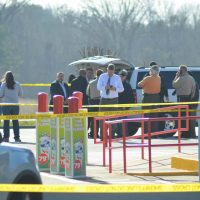 (Chatham, Va.) – Court records show the man charged with murder in a road rage shooting death in Pittsylvania County has an extensive criminal record.
46-year-old James Hooper, III is charged with first degree murder. He's accused of killing Jacob Steele Robertson, 27, at the Kangaroo gas station in Blairs after an argument on Route 29. According to warrants, Hooper said that Robertson ran him off the road and then both vehicles went to the gas station. As Robertson got out of the passenger side, he was shot in the chest and elbow and died at the scene.
Hooper has a violent criminal history that includes a guilty plea to assault and battery charges in Danville. In 2002, Hooper and another man were charged with first-degree murder and armed robbery in the shooting death of James Gregory Beasley, who was shot and killed off Old Hwy 29 in Pelham near the Virginia/North Carolina line.  Hooper pleaded guilty to robbery in that case in 2003.
Hooper was a convicted felon and was not permitted to have a gun. He also faces firearms charges related to this week's homicide.
Robertson leaves behind an eight-year-old son, wife, and his parents.