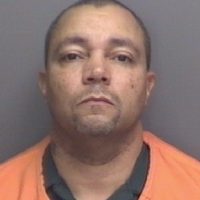 (Blairs, Va.) – A Lynchburg man is charged with murder in a noontime shooting in Pittsylvania County.
An off-duty Pittsylvania County Sheriff's deputy was the first on the scene of the shooting, which happened in the parking lot of the Kangaroo Mart off Route 29 in the Blairs community.
He arrested 46-year-old James Roland Hooper, III, who faces a first-degree murder charge in the shooting death of another Lynchburg man, 27-year-old Jacob Steele Robertson. Hooper is also charged with use of a firearm in the commission of murder and possessing a firearm by a convicted felon. He's being held in the Pittsylvania County Jail without bond and is scheduled to be arraigned Wednesday in Pittsylvania County District Court.
The circumstances that led up to Tuesday's fatal shooting are unclear. Investigators believe Hooper and Robertson did not know each other.
The sheriff's office says Roberston is survived by his parents, fiancée and his 8-year-old son.