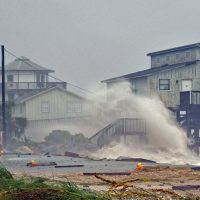 (Danville, Va.) – A Flash Flood Watch is in effect for the Dan River region through late tonight with the potential for 3-to-6 inches of rain in Southside Virginia. The highest amounts are expected to fall east of Danville.
The National Weather Service in Blacksburg says Tropical Storm Michael will move across the Carolinas and into Virginia today, then off the coast tonight. Rains are expected to pick up in the Danville area by late morning and continue through about 9 p.m.
The tropical storm will also be accompanied by 30 mph wind gusts, which could cause some trees to topple because the ground is already saturated.
Meteorologist Will Perry cautions that some of the banding features associated with Michael could result in an "isolated spin-up of a tornado." The NWS lists Southside in a "marginal" risk for tornadic activity. He says there is a chance for tornadoes from noon through about 4 p.m. While the risk is low, Perry cautions "there is still a chance."
Unlike Florence, Michael is a fast-moving storm and should be out of the area tonight, with sunshine and cooler temperatures forecast through the weekend.