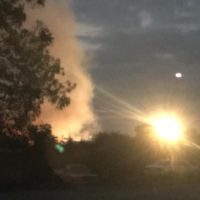 (Ringgold, Va.) – It took volunteer firefighters two-and-a-half hours to contain a large fire at Piedmont Landfill on Clark's Mill Road.
Ringgold Fire Chief Mike Neal says they responded about 7:10 Thursday night and found wood pallets and discarded lumber ablaze. Winds help fuel the flames but firefighters contained the fire and kept it from spreading to the woods nearby.
About 40 firefighters and EMS personnel were called to the scene. In addition to Ringgold, the Kentuck and Blairs Volunteer Fire Departments responded, pumping about 20,000 gallons of water onto the flames.