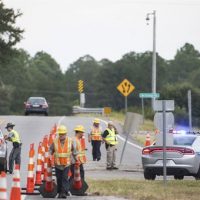 (Danville, Va.) — The National Hurricane Center has shifted the track of Hurricane Florence more to the south, which will lessen the magnitude of the impacts here at home. Instead of making landfall in North Carolina and then moving northwest toward our area, the track has shifted south.
• The possibility remains for Danville to see several inches of rain this weekend, beginning on Friday, with heavier amounts occurring Sunday or Monday; localized flooding remains a concern.
• Wind gusts around 30 mph are expected, beginning on Friday and continuing Saturday and perhaps Sunday. With the ground already saturated from the rainfall received this month and in August, these wind gusts could push down trees. Power outages will occur as trees fall across power lines.
• Hurricane forecasts and tracks can change, so please remain vigilant and prepared.
Sandbags:
• The Public Works Department has suspended its distribution of sandbags due to the significant shift in the projected track of the hurricane and the lower probability of catastrophic damage from flooding.
What the City of Danville is doing now:
• Emergency management personnel continue to monitor weather reports and advisories from the Virginia Department of Emergency Management and other state agencies.
• All City vehicles and equipment are fueled and ready for use.
• Danville Utilities power line crews remain on standby and six contract crews remain reserved to provide assistance in restoring power as needed. Additional right-of-way crews remain reserved to assist with tree trimming activities.
What should residents and visitors be doing now:
• Pay attention to the development of Hurricane Florence. Continue to monitor the storm in case of any erratic shifts in its course over the next couple of days.
• Residents who have not yet built an emergency kit are encouraged to do so. The kit's provisions should sustain all residents in a home for at least 72 hours. These kits should include: a battery-powered or hand-crank radio, flashlight, extra batteries, food that does not need refrigeration, a non-electric can opener (if kit contains canned food), bottled water, first aid kit, prescription medication or other individual needs, and copies of important family documents such as insurance policies and identification.
• Consider what unique needs your family might have, such as prescription medications, supplies for pets and additional needs for infants or seniors.
• Continue to make sure family members, friends and neighbors are prepared for an extended weather event.
• Know the Danville Utilities 24-hour emergency number – (434) 773-8300 – so that it is readily available if needed to report a power outage.