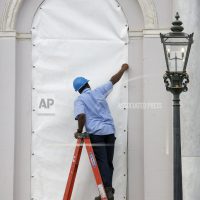 (Wilmington, N.C.) — Hurricane Florence took a slight turn to the southwest as it charged toward the Carolinas on Wednesday morning, with forecasters warning that the Category 4 storm might now produce catastrophic flooding and rain in a larger swath of the coast and farther inland than previously predicted.
The eye of the Category 4 storm was expected to pass between Bermuda and the Bahamas on Wednesday and arrive at the Carolina coast by Friday. Tropical storm-force winds, extending 175 miles from the center, were expected to make landfall early Thursday morning, giving more than a million people little time to evacuate.
The storm was now predicted to slow and then stall just offshore, lapping the coast with high waves and dropping more than 20 inches of rain in flood-prone coastal areas. Florence was forecast to crawl inland from Friday and into Saturday morning, drenching areas far from the coast as the storm butts against the Appalachian and Smoky Mountains, said Joel Cline, a meteorologist at the National Hurricane Center.
Parts of the Carolinas could experience hurricane-force winds for 24 hours or more, said Jeff Byard, associate administrator for response and recovery at the Federal Emergency Management Agency.