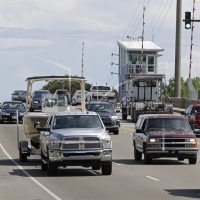 (WILMINGTON, N.C.) – Hurricane Florence continues its approach to the North Carolina coast.
At 5 a.m., the storm was centered 575 miles southeast of Cape Fear, North Carolina, moving at 17 mph. The storm is expected to continue gaining strength Wednesday. The Category 4 hurricane is expected to keep drawing energy from the warm water and intensify to near Category 5, which means winds of 157 mph or higher.
Evacuations have been ordered in coastal Virginia and in North and South Carolina.
The Navy is also mobilizing, moving people and ships ahead of Hurricane Florence , and the Air Force and Army are both flying advanced aircraft elsewhere as a safeguard. Some remaining Marines, meanwhile, are digging in their heels.
While thousands of Marines and their families have already left Camp Lejeune in Jacsksonville, North Carolina, the commanding general said Tuesday that anyone remaining at the base would have food, water and protection despite being in the projected path of the storm.
Some military families and others took to Camp Lejeune's Facebook page, venting fears and questioning why there was no mandatory evacuation.
Nat Fahy, a spokesman for the command, said the base was the safest place for anyone who had not evacuated already. Shelters on the base are expected to open early Wednesday.