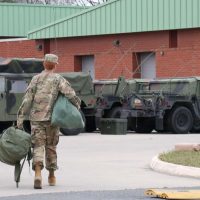 (Richmond, Va.) – Gov. Ralph Northam has mobilized the Virginia National Guard as Hurricane Florence makes its way to the Carolina coast.
Northam has authorized the potential mobilization of all 6,000 national guard troops, a first for Virginia.
1,500 National Guard airman and soldiers have already been called up across the state to help with ground and air rescue operation, clear debris, transport emergency officials, and distribute food, water and fuel to shelters in need.
At late morning Tuesday, the National Hurricane Center said a new report from an Air Force Reserve Unit hurricane hunter aircraft indicates that Hurricane Florence's top sustained winds have decreased slightly to 130 mph with higher gusts. Florence is still a Category 4 hurricane and is expected to regain its top wind strength in the next day or so.
Mandatory evacuations have been ordered for the entire South Carolina coastline and for parts of Virginia and North Carolina.