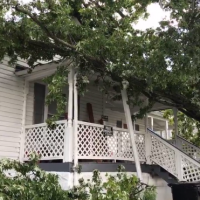 (Danville, Va.) – All Danville Utilities customers who lost power in Wednesday's violent thunderstorm were back online by 8:00 p.m., as crews restored service to residents in southeastern Pittsylvania County and in Halifax County.
At the height of the storm, every available fire truck was pressed into service, with extra duty staff responding to calls in private vehicles.
A large tree toppled onto a house on Claiborne Street in North Danville. Two occupants escaped unharmed. Downtown, the storm blew a vent cap off the top of the Danville House.
Downed trees and power lines caused widespread power outages, affecting customers served by the Brantly, Bridge Street, Southside and Airside substations.
There were no reports of any storm-related injuries.