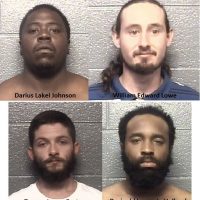 (Danville, Va.) – Danville Police have made five arrests in a Wednesday afternoon robbery at The Grill on Watson St.
Shortly after the robbery call came in, patrol officers located a vehicle in the 800 block of Stokes Street that matched the description of the getaway car. The vehicle was unoccupied, but the engine compartment was warm as if it had recently been running.
Officers learned that the occupants ran into a nearby house. Additional investigators arrived on scene and five suspects were located and detained, and a search warrant was obtained to search the home.
Four adults and one juvenile were charged in connection with the robbery.
Darius Lakei Johnson, 28, is charged with robbery and use of a firearm in the commission of a felony; William Edward Lowe, is charged with conspiracy to commit robbery; 21-year-old Tanner James Foster is being held as an accessory to robbery; and Reginald Lamonte Holland, 27, faces a robbery charge.
A 17-year-old juvenile is charged with robbery, burglary while armed, and use of a firearm in the commission of a felony. His name and photo are being withheld because of his age.
All four suspects are being held under no bond. The 17-year-old is being held at W.W. Moore Jr. Juvenile Detention.