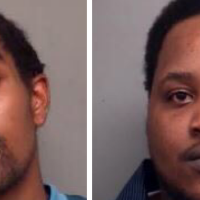 (Roanoke, Va.) — Two men wanted in a Martinsville homicide have been arrested in Roanoke.
Brandon Thomas and Adrian Watkins were arrested without incident Wednesday by the US Marshals Fugitive Task Force and Roanoke Police and are being held without bail.
Plans are being made to return both to Martinsville to stand trial for murder in the death of 20-year-old Sean Goddard, Jr. He shot in the 100 block of Askin Street just before 1 a.m. Sunday. Goddard died Monday at a Martinsville hospital.
Investigators haven't given a motive in the slaying.