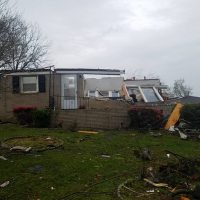 (Greensboro, N.C.) — The city of Greensboro is asking for volunteers and donations in the wake of an April 15th tornado that damaged or destroyed 1,000 homes and businesses.
Assistant City Manager Chris Wilson says money to repair or replace homes it's what is needed the most. And he's asking people to consider contributing to tornado relief funds or signing up for one of many volunteer efforts.
The city said in a statement that thanks to residents and businesses, Greensboro and its nonprofit partners have been able to give supplies to those affected by the twister.
Wilson says Greensboro has the necessary supplies but warehouse space is reaching capacity, so financial help will be the biggest need going forward.