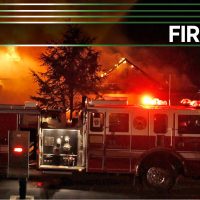 (Danville, Va.) — The Danville Fire Marshal is investigating a fire call that was answered by four departments.
In addition to Danville, crews from Ringgold, Blairs and Kentuck were called to the scene of a Saturday evening house fire near the city limits.
Crews responded to the 200 block of Clarks Mill Road around 7 p.m. They found heavy fire and smoke damage to that home; however, no one was injured.
The fire was extinguished in about 30 minutes. Units remained on the scene for about two hours.
Earlier in the day, crews responded to another house fire in the 1400 block of Myrtle Avenue. The call came in just after 3:40 a.m. and firefighters found heavy smoke and flames coming from a two-story home. The fire was knocked down quickly and was under control within 20 minutes.
Two people live in the house but were not inside when the fire started. There were no injuries.
The fire marshal is working to determine a cause.