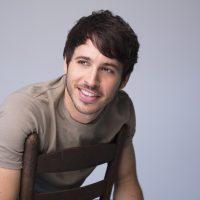 (Info from Wikipedia)
In March 2014 Morgan Evans released a self titled debut studio album in March 2014, which peaked at number 20 on the ARIA Albums Chart.  At the 2014 CMC Music Awards he won the Oz Artist of the Year, Male Artist of the Year and Best Australian Video of the Year. His track, "Like a Tornado", was short-listed for the Vanda and Young Songwriting Competition of 2014.
He hosted the CMC Music Awards for three consecutive years, from 2015 to 2017. He is the 2016 Country Music Association Global Artist of the Year and has won five fan voted Country Music Channel Awards, including Male Artist of the Year.
Following his relocation to Nashville, Evans signed with Warner Music Nashville in May 2017, which led to the release of his debut US single, "Kiss Somebody".
Evans married American country pop singer-songwriter, Kelsea Ballerini, on 2 December 2017 in Cabo San Lucas, Mexico. They had started dating in March 2016 and were engaged on Christmas Day of that year. The couple reside in Nashville.