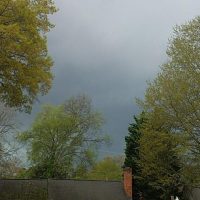 (Danville, Va.) — High winds and torrential downpours occurred across the region, with downed trees, power lines and tornadoes touching down.
The National Weather Service issued a Tornado Warning just prior to the storm, which left widespread damage in its wake.
Extensive storm damage and numerous downed trees are reported in the Westover Drive area. Westover Drive is closed to through traffic at this time. Trees and power lines are down in this area.
Mount Cross Road was also closed near Ricky's Market with a power pole blocking the roadway.
Heavy storm damage and power outages are also reported in portions of U.S. 58 West from VFW Drive to Beech Avenue, and the Brosville and Dry Fork areas.
Danville utilities and public works crews are responding. Electric customers are advised to be prepared for extended outages due to the extent of the damage.