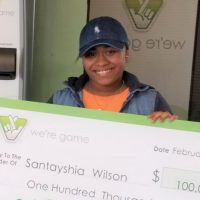 (Danville, Va.) — A Danville woman is $100,000 richer after buying a winning lottery ticket.
Santayshia Wilson matched all five numbers in the February 22 day drawing, winning  the grand prize in the Virginia Lottery's Cash 5 game.
Wilson says she was in disbelief until her father checked the ticket and confirmed that she had won. Wilson says she selected the numbers on her ticket, 8-10-12-23-26, using a combination of her parents' birthdays.
She bought the ticket at Quick N Plenty Market on the Mount Cross Road in Danville.
Wilson, who is a nursing nurse, said she plans to help her family with her winnings.