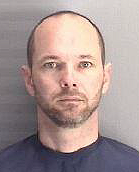 (Rockingham County, N.C.) – North Carolina prosecutors say they will not seek the death penalty in the death of a Reidsville man who was robbed and murdered in his home last spring.
39-year-old Michael Ray Hutson is charged with the April 4, 2017 murder of Reidsville native Terry Hagwood.
Reidsville police responded to a call in the 500 block of Thomas Street and found Hagwood dead inside the family home. Investigators announced three days later that the medical examiner had determined that Hagwood was shot three times in the head.
Hutson is charged with first-degree murder and felony robbery with a dangerous weapon.
He was arrested after a week-long manhunt that brought investigators to Danville, where Hutson and his car were spotted several days after the homicide. He was eventually arrested at a home near Eden.