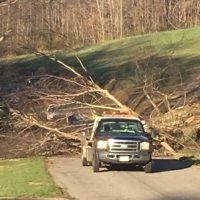 (Danville, Va.) — High winds and downed trees prompted Governor Ralph Northam to declare a state of emergency in Virginia Friday. In issuing the emergency declaration, Northam said "the health and general welfare of the citizens require state action to help alleviate the conditions caused by this situation."
An accident on the 265 bypass in Danville left traffic backed up as paramedics worked to free the driver from his car. Reports from the scene indicate the vehicle slid under a tractor-trailer, pinning the driver inside. He was cut from the wreckage by the Danville Life Saving Crew and taken to SOVAH Health Danville, where he was being treated for critical injuries. The accident happened just beyond an exit ramp about 3:30 Friday  afternoon.
In Amherst, a tractor-trailer driver was being treated for minor injuries after the wind overturned her truck. Virginia State Police said the driver was taken to Lynchburg General after her truck overturned in the northbound lanes of Route 29, about a half mile north of Route 130.
Scattered power outages affecting thousands of customers were reported throughout the Danville service area Friday. An outage downtown affected of 857 served by a feeder circuit from the Bridge Street substation. Earlier in the day, major outages were reported near the Danville airport area and the Cascade area. The outage in the airport area affected 510 customers and was related to a vehicle accident. The outage in the Cascade left 645 customers without power and was caused when high winds felled a large tree. A tree toppled onto a house in Cascade early Friday morning. Another tree landed on a car on Aspen Street in Danville. Similar damage was reported in Martinsville, Henry and Halifax Counties, where schools and public offices closed because of the high winds.
Chesterfield police say a 6-year-old boy died Friday hours after a tree fell onto his home due to high winds. A neighbor says he crawled into the home on Cliffside Drive in Chester on Friday morning to help get the boy – identified as Anthony Hamilton – out of his bunk bed and saw the tree on the boy's head. Another neighbor, who lives two trailers away from the incident, says her husband woke her up to say he heard a crash. They went outside and saw the tree had fallen on top of their neighbor's home. They were told by people on scene that the little boy was underneath the tree.