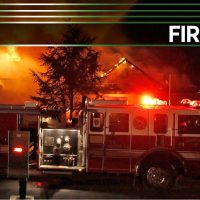 (Danville, Va.) — The Danville Fire Department saved a mobile home on Greentree Road Thursday afternoon.
Units were called to the 400 block of Greentree Road about 3:45 p.m. and found a single-wide trailer with moderate smoke showing from the roof. Firefighters entered through the front door and found the trailer full of smoke. The fire was traced to the kitchen stove and started in some unattended cooking.
Two dogs were rescued from the home and the fire was extinguished quickly.
Three engines, a ladder truck and two dozen firefighters responded and were on the scene for 90 minutes.
The occupants are staying with family members until repairs can be made.