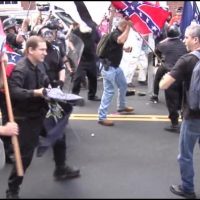 (Richmond, Va.) (AP) — Virginia's Republican-controlled legislature has defeated every bill introduced in the wake of last August's deadly white nationalist rally in Charlottesville.
Measures dealing with Confederate monuments, independent militias and gun restrictions have been quickly squashed before reaching the full floor of either chamber. Most died along party-line votes.
Some Democratic lawmakers contend their Republican colleagues put party politics ahead of public safety. But Republicans largely criticized the bills as bad policy and argued they wouldn't have prevented the car attack that left 32-year-old Heather Heyer dead.