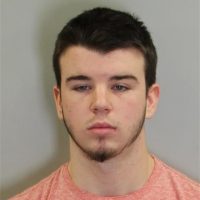 (Henry County, Va.) – A third man has been charged with murder in the February 17 shooting death of Axton resident Eric Adams.
18-year-old Landon Handy of Liberty, NC is charged with first degree murder, use of a firearm during the commission of a murder and robbery. Handy was arrested by the Randolph County Sheriff's Office Thursday and awaits extradition to Henry County, Virginia.
Jake Andrew Lewis was arrested Tuesday night in San Marcos, Texas and Dylan Alan Day was arrested in Reidsville, N.C. the following day.
Both are also charged murder, robbery and firearms counts. Lewis is in custody in Texas, while Day is being held in a North Carolina jail. They await extradition back to Henry County.
37-year-old Eric Adams was found dead of gunshot wounds in his Axton home on Sunday. He was shot twice in the abdomen during a robbery the previous night.