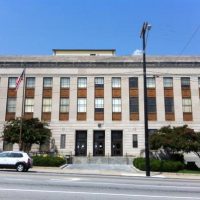 (Danville, Va.) – The man who defrauded the government through his Armet Armored Vehicles manufacturing plant in Danville is headed to prison for five years and eight months.
That was the sentence handed down Tuesday by U.S. District Court Judge Jackson L. Kiser.
72-year-old William L. Whyte of Montreal, Canada had faced up to nine years for the convictions. He continued to deny his guilt during Tuesday's sentencing hearing; however, a Danville jury found Whyte and his company guilty of multiple fraud counts last October.
The government contractor was hired to produce 30 armored vehicles for use in Iraq more than ten years ago. Armet finally delivered six but all failed to meet military standards.
Whyte must pay $900 immediately, and was also ordered to pay restitution for the actual loss of $2 million.