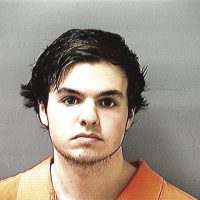 (Rockingham County, Va.) – A former James Madison University student accused of murdering a Gretna teenager has entered a guilty plea to a reduced charge of involuntary manslaughter.
According to court records, Joey Fondaco also entered guilty pleas to a pair of drug charges Friday and was sentenced to a total of 25 years in prison, with all but six months suspended.
Fondaco was originally charged with second-degree murder in the death of 18-year-old Hailey Ryan Moore. Moore and Fondaco were dating.
On the day of her death, Moore was found unresponsive at Fondaco's apartment.
The medical examiner determined that the Pittsylvania County girl's death was the result of a drug overdose.
Hailey Moore was an honor student in high school and was a Student of Merit at JMU. She was a cheerleader and a Student Government Representative.