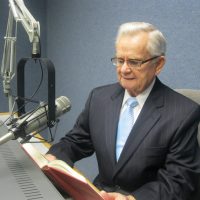 (Danville, Va.) – The man known to thousands of radio listeners on WAKG as "Brother Bob" died Saturday after a period of declining health.
The Rev. R.J. Barber, Jr. expanded the "Tabernacle Time" broadcast his father started in 1932. It remains as the longest running daily religious radio broadcast in the world.
Barber answered the call to the ministry at the age of fourteen. After completing seminary studies in Fort Worth, Texas, he founded the Worth Baptist Church there in 1954.
Upon the senior Rev. Barber's death in 1961, "Brother Bob" became pastor of the Baptist Tabernacle in Danville, VA. Under his leadership, the church experienced dramatic growth and in 1973 moved to its current location on Highway 58 East.
Due to health reasons, Rev. Barber resigned the pastorate of the Baptist Tabernacle in 1986 with the intention of retiring from the ministry. However, in 1998 he accepted the pastorate of Spring Garden Presbyterian Church  — now Spring Garden Community Church — where he continued another nine years. He then became pastor of Shiloh Baptist Church in Milton, NC, where he served for a number of years.
In 2011, he was honored with a Virginia Joint House resolution, acknowledging his 50 years of broadcasting.        .
Survivors include his wife, Justine, and daughters Susie and Sharon.
The Rev. R.J. "Bob" Barber, Jr. was 90.