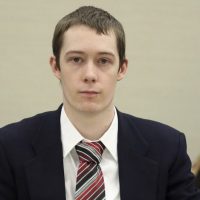 (Christiansburg, Va.) — David Eisenhauer changed his plea to "no contest" Friday and was immediately found guilty of all of the charges against him in the January 2016 stabbing death of a 13-year-old Blacksburg teen, Nicole Lovell.
In finding him guilty of first-degree murder, abduction and concealing a body, the judge noted that the former Virginia Tech student faces a possible sentence of life plus 15 years.
The surprise change of plea from "not guilty" to "no contest" came as a fourth day of testimony was set to begin in a Christiansburg courtroom. A plea of no contest means a defendant acknowledges there's enough evidence to convict him, but doesn't admit he committed the crime. The plea has the same effect as a guilty plea.
It followed the admission into evidence of incriminating text messages between Eisenhauer and co-defendant Natalie Keepers, who was also a Tech student. Keepers has been charged as an accessory and is scheduled to go on trial in September.
Prosecutors said Eisenhauer stabbed Nicole 14 times and cut her throat because he feared his relationship with the underage girl would be exposed.