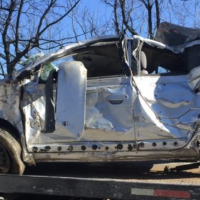 (Patrick County, Va.) – A body found Thursday at the bottom of the Lover's Leap overlook has been identified as 62-year-old Phillip Daniel Lilly, a Henry County man who'd been missing since early January.
In his report, the medical examiner ruled Lilly's death an accident, listing the cause of death as blunt force trauma received from a fall. Patrick County Sheriff Dan Smith said the medical examiner actually completed his work on Friday but the sheriff waited to release the information until the family had been notified.
Lilly's car had driven off the cliff and was found on Tuesday. Crews descended the overlook from a different angle on Thursday and discovered his body several hundred feet below the site where the car was recovered.
It's still unclear as to what caused Lilly to fall off the cliff and how his car ended up some 200 feet down the embankment and away from his body. State Police believe this was a single vehicle accident. Patrick County investigators say there was no evidence of a crash before the car plunged over the cliff.