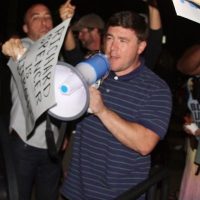 (Charlottesville, Va.) — Two people have been found guilty of charges stemming from a chaotic press conference last summer during which the organizer of a white nationalist rally was chased away by an angry crowd.
Four defendants were in court Friday facing a misdemeanor charge of assault and battery against Jason Kessler.
Kessler, a self-described white activist, organized the "Unite the Right" rally in August that descended into chaos. The following day, Kessler called a press conference outside city hall. An angry crowd began heckling him and chased him away.
Two defendants were found guilty. One was ordered to perform community service, and the other received a suspended sentence.
The third received a suspended sentence after admitting there was enough evidence to convict him. The fourth person's case was continued.