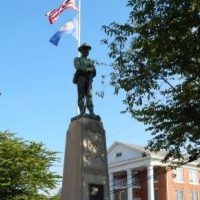 (Richmond, Va.) — A House of Delegates subcommittee rejected a series of bills clearing the way for the removal or relocation of Confederate monuments across Virginia.
The Richmond Times Dispatch reports that a similar vote in the Senate means that Virginia won't be getting rid of its Confederate memorials anytime soon.
Gov. Ralph Northam was among the supporters of the legislation. He campaigned last year for removal of the statues, pointing out that they are seen by some as painful reminders of past racial inequalities.
Members of the Republican-controlled House Counties, Cities and Towns Subcommittee voted down the bills.
One bill would have amended a state statute that bars cities and counties from determining whether the monuments should stay or go.