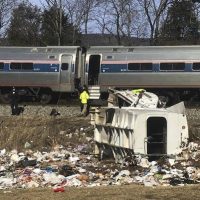 (Crozet, Va). — One person was killed, and six were injured when an Amtrak train carrying Republican lawmakers to an annual party conference in West Virginia hit a trash truck in Crozet, Virginia Wednesday morning.
None of the dozens of members of Congress aboard the train, or their accompanying family members and aides, were among the seriously injured. The person who died was one of three men in a garbage truck that had entered the railroad crossing.
Albemarle County Police identified the victim as Christopher Foley, 28, of Louisa County. He was a truck passenger. Another person in the truck was seriously injured and was airlifted from the scene.
The National Transportation Safety Board dispatched a team of nearly two dozen people to the site. The Federal Railroad Administration is also investigating the crash.
Officials at the University of Virginia Medical Center said six patients were transported there from the crash. One was in critical condition, four were being evaluated, and one had been discharged Wednesday evening, according to hospital officials.